Elevate your business with frontend development services and go the extra mile
Leverage the benefits of tailor-made frontend interfaces & watch your business rise to the next level.
Transform your idea into a product
Bring your idea to life with the proper technology & establish your brand's image among consumers & investors.
Establish your Brand
Your web application becomes the face of your brand. Align your ideas with the interface to increase brand resonance.
Accessible on all devices
Don't limit your reach to just one platform. Expand your app by making it accessible to all devices for audience feasibility.
Create room for scalability
Go for solutions that are flexible to change in response to customer demands and shifting market conditions.
Schedule an
expert session with EKbana.
Schedule a session
Discover The Evolution Of Frontend Development With Modern Techniques
We aim to seek solutions to match each client's unique business goals. A lot goes on behind the scenes to make the face of the application look neat. We incorporate optimal frameworks, including components, routing, state management, and performance optimization to make it happen.
Design and plan the user interface
Create wireframes, prototypes, or mockups to visualize the application's layout and functionality.
Build the application
Construct the application's structure, style, and interactive behavior using web technologies such as HTML, CSS, and JavaScript.
Test and debug the application
Run automated and manual tests to identify and resolve any issues in the application.
Deploy and maintain the application
Launch to a server or hosting platform available to users, and maintain by fixing bugs and adding new features.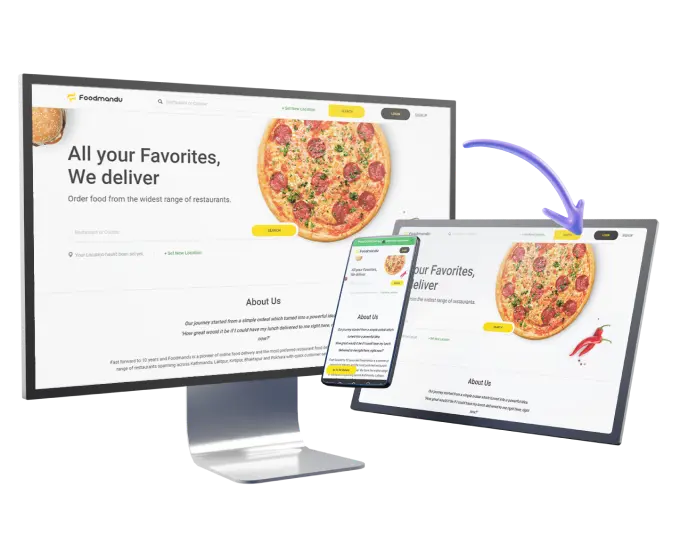 Check out the technologies
we use to bring maximum value to your business
Frontend development can add significant value to a business by creating a visually appealing and user-friendly website or application that effectively conveys the brand's message & provides a smooth and efficient user experience. This can help attract and retain customers, increase engagement, and ultimately drive business growth.
Schedule a session
UI/UX
Our frontend development services encompass the latest in UI/UX design technologies to create responsive applications with streamlined user experiences.
Frontend Application
We specialize in developing frontend applications using the latest JavaScript technologies such as Angular JS, Next JS, and React JS, ensuring that our clients are future-proofed with constantly updated technology.
Interactive/Real-Time Application
Our skilled Javascript and Node JS teams excel at developing interactive and real-time applications, leveraging technologies like Node JS and socket programming to create tracking applications such as B2B/B2C Delivery Systems.
01
Project Requirements
Identify the purpose of the project and align it with your brand's objectives.
02
Technology evaluation
Plan the overall visual design & user interface for the website accordingly.
03
Design & Layout Ideation
Plan the overall visual design & user interface for the website accordingly.
04
Website development
Write the code for the user interface using the selected technologies.
05
Website testing & debugging
Thoroughly test the interface for any bugs or errors & resolve the fixes accordingly.
06
Optimization and maintenance
Optimizing the frontend code to improve the performance and accessibility of the interface.
What to expect from your Frontend Development Company
When selecting a frontend development agency, you should expect them to lead you through the ever-changing world of technology. You need to collaborate with a team that asks the right questions, analyzes the market, identifies obstacles, and ultimately provides solutions to overcome them.
At EKbana, we'll select the appropriate technology to build your interface and customize it to fit your business requirements, vision, market needs, and future goals.
Up-to-date Innovations
It's important to choose a frontend development team that is knowledgeable and keeps up-to-date with new features, innovations, and security issues. The software sector is constantly evolving, and user demands are always changing.
Team of Professionals
Expertise is just the beginning of building the perfect frotnend development team; the team composition should adjust to each stage of the development process to keep focus sharp and costs down. A good frotnend development company plans the execution of a digital project from start to finish, incorporating project management and quality assurance practices to ensure a seamless completion.
Interested in building something similar?
Request a free one to one Consultation for
your next big idea.
Get Proposal