Make your Brand Accessible & Scale Up with your own Mobile App
Let your brand become the talk of the town. Reach your target audience easily with a sturdy & trendy app.
Expand distribution
With over 1 Billion online shoppers globally, you can easily expand your business with a mobile app & reach consumers.
Increase Brand exposure
Over 90% of internet usage is via apps. Penetrate the market & get recognized by your potential customer base.
Build Engagement & Loyalty
Keep users coming back for more with regular push notifications via your app & provide them with updates directly.
Optimize tactics & strategies
Understand your customer to boost your business. Assess data & user behavior via apps to develop new strategies.
Schedule an
expert session with EKbana.
Schedule a session
App Innovators: Pushing The Boundaries Of Mobile Technology
We aim to seek solutions to match each client's unique business goals. An app can become your brand's identifier, so it's crucial to pick the best service provider. Adapt in real-time to the ever-changing needs of your users and market with our professional app development services.
Choose the best technology
Find out just what your business needs to boost its digital presence as we deliver the latest technology & tools for you.
Develop an app from scratch
Bring your concepts to life and make them scaleable with our efficient app development service.
Optimize, integrate, or audit your app
Keep your mobile app updated. Edit and optimize your app to align it with the latest trends & technology.
Provide secure, stable app maintenance
Consistently maintain your app for improved performance as we keep an eye out for bugs, malfunctions & security breaches.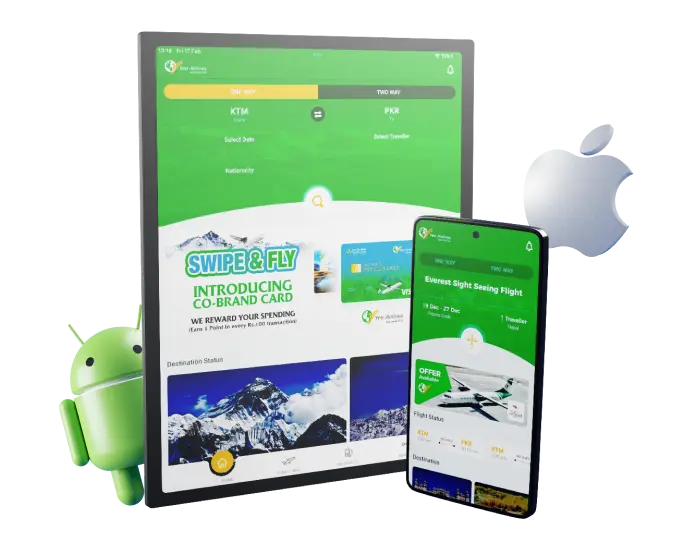 Check out the technologies
we use to bring maximum value to your business
Mobile app development facilitates problem-solving & responding to users' needs by applying multiple technologies. Make your brand stand out with specifically catered solutions adjusted to your unique needs.
Schedule a session
AR/VR
We create groundbreaking applications that transform digital content interactions through AR and VR technology. Our AR applications seamlessly project objects onto your handheld devices, enhancing your digital experience like never before.
Enterprise chat
Take control of your business communication with our customized iOS/Android enterprise chat solutions. With secure cloud hosting, you can store and manage your data without involving third-party providers.
Enterprise Application
Accelerate your workplace digital transformation with our innovative connected mobility solutions. Our team develops tailor-made mobility solutions that align with your enterprise model and goals, enabling you to optimize productivity and efficiency.
Location Based Application
Maximize the power of location-based technology with our real-time location monitoring solutions. Our cutting-edge technology empowers your business to make informed decisions and stay ahead of the competition.
01
Project requirements
Identify the objective of your app & define its specific features and functionality.
02
Research & Evaluation
Describe the main functions and features including any integrations or external APIs.
03
Design & Layout Ideation
Create mockups and wireframes including the layout, color scheme, and branding elements.
04
Mobile App development
Integrate any external APIs or services, as well as the design and user experience.
05
App testing & debugging
Carry out the app's final quality assurance and test on multiple platforms & devices.
06
Mobile App deployment
Getting ready for deployment, creating the app's essential documentation
Boost your app's performance with the latest technological advancements
Chatbots
Incorporating chatbots can enhance customer service by providing instant support within the app. They can also be used for feedback gathering, transaction assistance, and general support.
Augmented Reality (AR) and Virtual Reality (VR)
By using AR and VR technologies, users can interact with digital content in an immersive manner. You could offer virtual tours of properties or use VR to simulate a work environment for employee training.
Cloud services
By integrating your app with cloud services, users can access and store data remotely, improving collaboration and scalability.
Blockchain
Adding blockchain technology can enhance security and enable users to conduct secure, decentralized transactions.
IoT devices
By integrating your app with IoT devices, users can remotely control and monitor their devices, making the app more convenient and functional.
Cloud computing
By utilizing cloud computing, you can improve the app's speed, scalability, and reliability, and enable real-time data syncing and collaboration across devices.
Implement Artificial Intelligence and Machine Learning
By using AI and ML technologies, you can personalize user recommendations, automate repetitive tasks, and analyze user data to identify trends and patterns.
Incorporate augmented and virtual reality
By using AR and VR technologies, you can provide interactive and immersive content such as 3D models, virtual tours, and games, enhancing the user experience.
Interested in building something similar?
Request a free one to one Consultation for
your next big idea.
Get Proposal