Quality matters for every successful product
Enhance your brand's digital presence with professional quality assurance service. Here's how QA helps
Risk Management
Identify hazards and take necessary measures to avert them.
Maintain quality
Introduce steps to sustain the quality of your product over time.
Protect brand reputation
Avoid unwanted risks &stay secure with safeguarding measures.
Schedule an
expert session with EKbana.
Schedule a session
Stay safe with Innovative Quality Assurance approaches
We aim to seek solutions to match each client's unique business goals. With professional quality assurance, we can ensure that the software performs optimally without bugs or errors & meets the user's expectations which ultimately leads to increased customer satisfaction, improved user experience, and higher retention rates.
Define quality standards
Establish the quality criteria that the product or service should meet including industry standards, company standards, and customer expectations.
Test the app
Verify that the product or service meets the established quality standards by conducting a variety of tests, such as functional, performance, and compatibility testing.
Inspect the app
Examine the product or service to identify any defects or issues that may affect its quality through the use of automated tools, or through manual testing.
Monitor and improve quality
Continuously monitor the product or service via ongoing testing and inspection, as well as tracking customer feedback and issues to identify areas for improvement.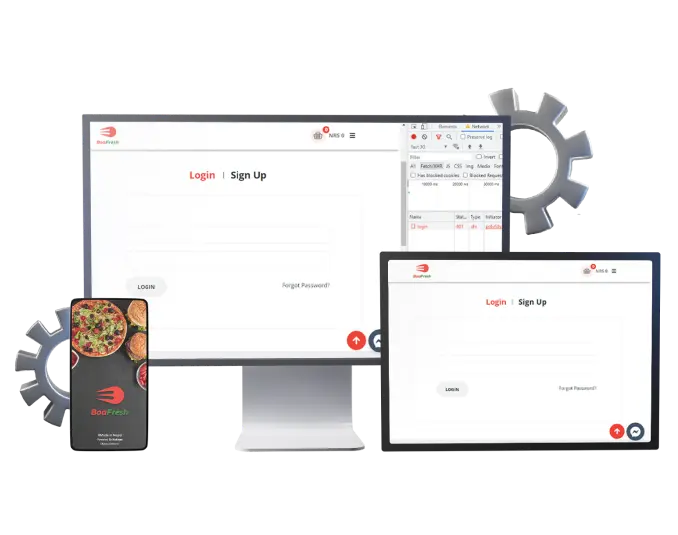 Check out the technologies
we use to bring maximum value to your business
QA brings value to businesses by ensuring products, services, and systems meet customer expectations through various testing methods that identify and fix defects, bugs, and issues before customer delivery.
Schedule a session
QA Process
We follow an elaborate QA process with detailed documentation of every aspect & step of the project.
Automated Testing
We use software like Selenium Automation in conjunction with Jenkins integration tool to ensure well-tested deployment every time. This is particularly best suited for large enterprise-level applications with multiple modules.
API Testing
We provide this facility with the use of POSTMAN to thoroughly perform tests on the API of every application.
Load/Performance Testing
We use Apache Jmeter to benchmark our application as per the requirement of our clients, we then tweak the performance and run the test again until the desired output is achieved.
01
Assessment of quality standards
Identify and define the standards and expectations for the product or service being tested.
02
Design of test cases
Create a plan for testing the product or service, including designing test cases accordingly.
03
Execution & documentation
Carry out the tests and document the results, including any identified defects or issues.
04
Defect & issue tracking
Identify and track any defects or issues that are found during the testing phase.
05
Quality metrics report
Analyze the results of the tests and report on key quality metrics of the project.
06
QA process improvement
Continuously review and improve the QA process to ensure that it is effective and efficient.
Improve product quality
Quality assurance plays a pivotal role in ensuring that a product meets high-quality standards and satisfies the needs of its users and can help guarantee the final product is of top-notch quality.
Increase customer satisfaction
Customers are loyal to reliable products that function as expected, which ultimately leads to greater satisfaction. Quality assurance can help ensure that a product lives up to these expectations by verifying its reliability and functionality continually.
Enhance brand reputation
When a product is well-designed and dependable, it has the potential to boost the reputation of the brand, which subsequently generates higher demand for its products and services. QA creates a positive brand image and promotes customer loyalty by keeping the product consistent.
Save time and resources
QA can save time and resources by identifying and fixing issues early in the product development cycle, preventing costly fixes after the product's release. This way, integrating QA from the beginning can enhance the final product's quality as well.
Interested in building something similar?
Request a free one to one Consultation for
your next big idea.
Get Proposal